Other services that we provide
---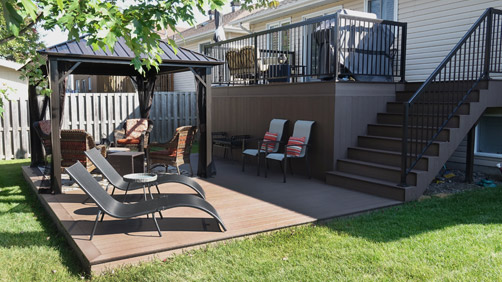 NorthStead builds composite decks
On this project we designed this deck to all meet the strict city setbacks and got all the necessary permits to get it done right. A coffee colour composite was picked that uses stainless steel under-clips giving the decking that screw-less look. We chose a black premium railing to compliment the gazebo and we installed underground armor gas line from the meter to the deck for the customer to enjoy the convenience of a natural gas baroque. We enclosed the bottom of the upper deck and utilized that area for storage which allowed us to remove the old shed from the backyard.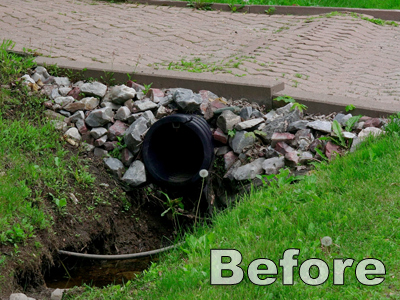 We provide drainage solutions and repairs culverts
As of 2015 the city of North Bay will no longer repair damaged culverts in your driveway. Instead the homeowners will need to find a private company to have their culvert repaired. This isn't a bad thing because the city only repaired the culvert and not your interlock. Now companies like NorthStead can carry out the whole repair without delays fixing your culvert and your interlock at the same time.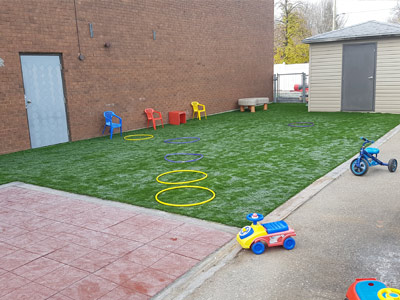 Rymar Synthetic Turf for playgrounds and homes
Rymar Synthetic Grass offers the rich look of real grass and is environmentally-friendly. Designed for the ever-changing Canadian climate comes with an eight year warranty and is a low maintenance alternative to traditional grass. Rymar offers twelve variants of synthetic turf from putting green up to two inch bladed grass. Synthetic turf is a great choice for high maintenance areas like pools which will prevent organic lawn clippings from entering your swimming pool.
We also install putting greens for that golf lover in the family. Using rymar putting turf we can take that drab area of your property and turn it into putter's paradise. We can alter the course difficulty to any level of play by contouring of the entire green.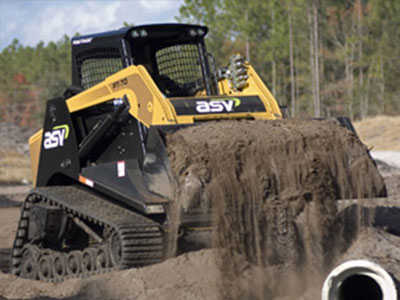 Why rent when you can get both machine and operator for less
You can hire our machine and experienced operator to do any job you are planning. We can most likely do it better, quicker and cheaper than renting a machine.
Our ASV / Terex PT-60 Track skid-steer has half the weight distribution pound per square inch less than human footprint, meaning a persons foot will sink further down in soil than our machine. This makes spreading topsoil a breeze and especially over your septic bed. The machine is small enough to fit between houses and get into those tight areas.
This vehicle also can climb grades up to 60% incline forwards or backwards, which makes bringing material to hard places easy. If you need a machine and operator to rent for a project give us a call.