Interlock driveways
---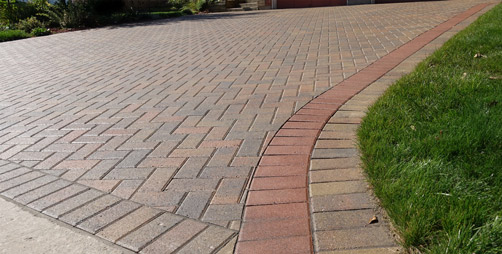 Landscaping challenges us to stay focused physically and creatively
On this project both owners of this semi-detached home wanted to interlock their gravel driveway. We were able to provide solutions to satisfy both of the customers needs for design and colour coordination. Note this driveway has a double boarder which we've incorporated the trim colour from the home.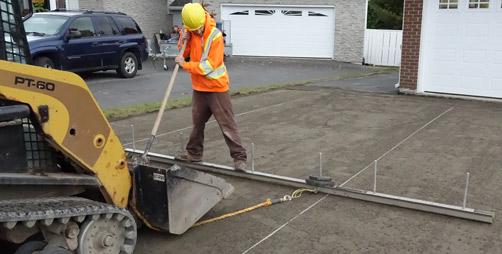 Why should NorthStead be your next contractor?
Base preparation is where most time is spent building a driveway. We have developed a method of grading the whole driveway with our custom screed system which we use to ensure the finished driveway has proper slope and no dips.
The traditional method of grading sections using a piece of lumber without any aids results in a driveway with dips or an uneven look over it's entire length. This method is still being used by some local companies and it's important to ask potential contractors their methods on how they would construct your driveway.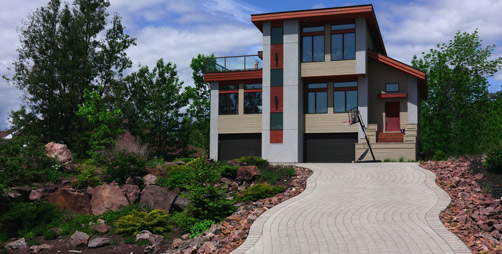 Interlocking pavers can increase the value of your home by adding curb appeal
Nothing adds more beauty to your home than the classic look of interlocking pavers. Interlock concrete products are designed with durability in mind where visual aesthetics are paramount including driveways, patios, sidewalks, gardens and retaining walls.
There are a wide variety of concrete pavers choose from. They are available in a range of colors and styles to suit more homes colour pallet. With our experience we can help you choose the right products and colours for your home. NorthStead landscaping aims to build durable, practical landscape projects that will retain value and appeal for many years to come.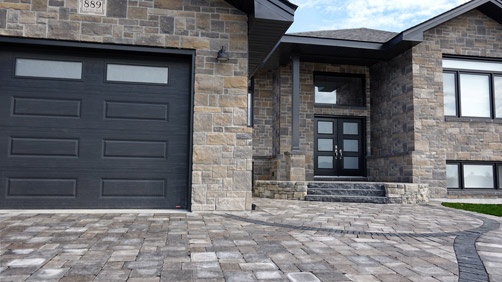 Design with you in mind
A typical landscape contractor will install steps that get you to your door but, at NorthStead we like to take it to the next level by adding flow. Here you can see how these steps are angled facing the driveway giving you a direct path from the most likely place you'll be heading. Note the direction of the brick in the walkway follows the direct of traffic to the entrance.
We like to add character using custom borders allowing your project to standout from the rest. NorthStead strives on the finer details separating us from the rest and you know that you are getting when you call us.
Creating some of the best designed projects in the North Bay and Callander area
NorthStead is passionate about landscaping therefore we feel our work should have timeless quality that lasts the test of time. We enjoy working with our customer's and feel bonded to our projects in hope that we can be invited back to see how they hold up.
Every home has something which can be improved upon whether it's sunken steps or a dysfunctional sidewalk.  NorthStead is the company that can take your project to the next level most of all, we don't charge extra for making our work standout… that's our goal!