NorthStead builds entrances & stairs
---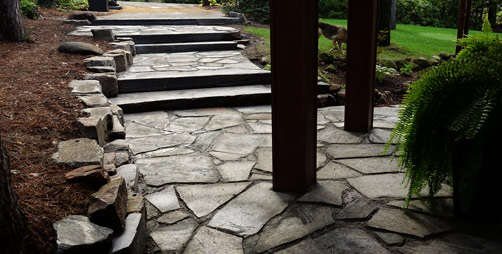 Stairs can be created using natural stone instead of concrete blocks
Natural stone is an excellent alternative for customers who want that rustic natural look for their home. Nothing gives you breath taking appearance like well placed granite flagstone. Granite is virtually maintenance free and durable allowing it to last a lifetime. Granite comes in many sizes thin flat flagstone for walkways or larger stones for retaining walls and steps.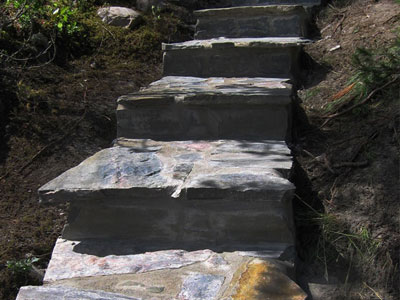 Natural stone can be veneered to existing concrete steps using an outdoor thin-set
Holes are drilled into the bedrock where re-bar is used to secure each step in place. A form is built so that concrete can be poured to create steps. Once the concrete is cured an outdoor thin-set is used to adhere pieces of flagstone to the concrete step.  Mortar is added between the joints of flagstone to achieve the finished look.
Another method to creating stairs are stacking large flat seven inch thick granite stones and overlapping one after another. A gravel base is created under the rocks to ensure that sifting will be minimal. These stones are very heavy and usually require a machine to aid with the installation.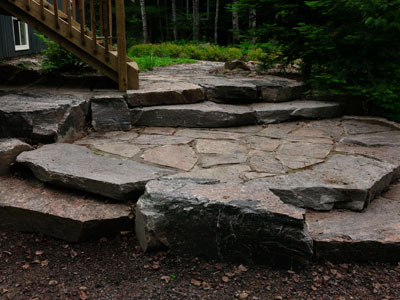 It's important that projects are functional as well as aesthetically pleasing
Here the customer wanted to be able to walk any direction from the bottom landing. We built these stairs to accommodate the customers needs and look how they turned out. At NorthStead we in build in stages to ensure the client has a good understanding of what is being done to their property because it's difficult for some customers to visualize the entire project. In the end we want the project to be as pleasant as possible and to instill a trustful relationship with the client.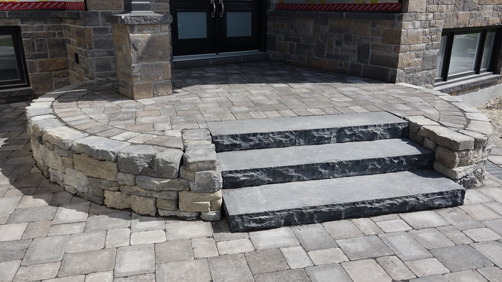 It takes patience and experience to create something from nothing
The process to creating practical and attractive stairs from scratch has been honed from years of experience. Every contractor will build a different set of steps out of the same materials. You want to be sure that you are getting the right contractor for the job. Allowing NorthStead to build your next project guarantees it will be well designed and built to last.