About Northstead Landscaping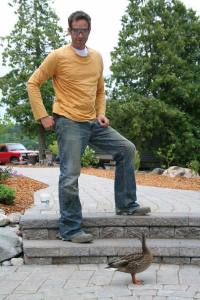 Hello, I'm Darin Barker and I would like to tell you more about NorthStead Landscaping. I'm originally from North Bay Ontario and I founded NorthStead in 2009. Before NorthStead I started out in the industry in 2004 gathering experience working for other landscape companies in the area. It didn't take me long to develop a passion for landscaping and the techniques that would allow my work to standout on its own. I like working in the North and steady work, that's how NorthStead the name was created.
I'm not like some owners who drive around in their trucks delegating crews of people to do their work. I'm the one that does the work with my crew and I take on each job like it's my own.  I enjoy the challenges that each season throws in my path and all my projects are unique because I'm creating something from nothing. I have learned the art of cutting bricks with angles of precision, to take rectangles and turn them into smooth flowing curves with ease.
My graphic design background gives me the ability to implement design, coordinate colours, and add character to my projects while keeping the functionality of the client's home. I even created my own website, signs and pamphlets to increase the professionalism of this company. I love to be creative and hope to show you what I'm capable of.
When you are ready to get creative and want that special space on your property then allow me to assist you in making your dream a reality. Remember that everything you do to your home will increase your property value. If you are looking to replace your gravel, concrete or asphalt driveway, paving stones are today's answer. Most people do not realize that paving stones are several times stronger than poured concrete. Poured concrete is hard and "brittle" and thus prone to cracking. Poured concrete cannot be repaired without leaving discolouration. Whereas poured concrete is tested to withstand 2,000 PSI, paving stones are tested in excess of 8,000 PSI. Paving Stones are set in a friction base sand mixture, thus they do not move around at all, but remain flexible. This flexibility means that with cold and hot weather the expansion and contraction do not create an ill effect on the paving stone installation.
Remember I want to make your project an experience to enjoy and treasure for years with your family and friends. When you contact NorthStead I'd be happy to consult you on your next project for ideas and give you an estimate at no cost to you. If you have a budget then I can work with you to tailor job in stages or meet a certain criteria.